Story Highlights
•
NEW:
Several attacks on Shiite pilgrims kill more than 120, wound over 200
•
Worst single attack hits Hilla: 93 Shiite pilgrims dead, 147 hurt
• Two separate bombing attacks kill nine U.S. soldiers
• Deadliest day for U.S. forces since February 7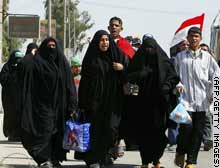 HILLA, Iraq (CNN) -- Insurgents stepped up attacks on Shiite pilgrims heading to the holy city of Karbala on Tuesday, with a series of bombings and small arms attacks that left over 120 dead and more than 200 wounded.
In the deadliest attack, suicide bombers targeted Shiite pilgrims in Hilla, killing 93 people and wounding 147 others, police said.
Two bombers struck the crowd of pilgrims on foot in the mostly Shiite city, about 80 miles south of Baghdad, a Hilla police official said. The official said 40 of the injured are in critical condition.
Many of the pilgrims were from Iraq's southern provinces, and were walking on a main road through the city's downtown.
The crowd was filing into a pedestrian area at the time of the attack, according to The Associated Press. Iraqi police and ambulances were on the scene, AP reported.
Pilgrims are traveling through Hilla en route to Karbala for Arbayeen, an upcoming religious gathering for Shiite Muslims.
Karbala is about 25 miles (40 kilometers) east of Hilla.
The attack was the latest of several deadly strikes Tuesday on Shiites marking Arbayeen, according to authorities.
Nine U.S. troops killed
The violence came as U.S. forces experienced their deadliest day in Iraq in nearly a month.
At least nine U.S. soldiers were killed Monday in two attacks north of Baghdad, the U.S. military said Tuesday.
Not since February 7 has the U.S. death toll been so high for U.S. troops, when 11 were killed in a Marine helicopter crash outside Baghdad, and four died in combat in Anbar province.
The deadliest attack Monday took place during combat operations in Salaheddin province, according to a military statement.
"Six Task Force Lightning soldiers died as a result of injuries sustained following an explosion near their vehicles," the statement said.
The blast wounded three other soldiers, who were taken to military hospitals.
In the second attack Monday, a bomb exploded near three soldiers serving with Task Force Lightning in Diyala province, killing them, the military said. One other soldier was wounded.
Lt. Col. Michael Donnelly, a spokesman for U.S. forces in northern Iraq, described Monday as "a very traumatic day" for U.S. troops in Iraq, according to The Associated Press.
"Our hearts and prayers are with the families right now in their time of loss, and our resolve is stronger to accomplish our mission here," Donnelly told AP.
The deaths brought to 3,177 the number of U.S. troops killed in the Iraq war. Seven American civilian contractors of the military also have died in the conflict.
Killers target Shiite pilgrims
In addition to the double suicide bombing in Hilla Tuesday, authorities said other scattered attacks in the nation left dozens of Shiites dead as they made their way to Karbala for Arbayeen. Arbayeen marks the killing of Imam Hussein.
Arbayeen falls on Saturday, marking the end of a traditional 40-day mourning period following the anniversary of Imam Hussein's death, known as Ashura.
Gunmen attacked a pair of minibuses, killing two Shiite pilgrims en route to the commemoration and wounding six others in Latifiya, about 25 miles (40 kilometers) south of Baghdad.
Shortly after the first attack, gunmen opened fire on a group of pilgrims walking in Latifiya, killing one and wounding three others.
Later, a roadside bomb blast killed five Iraqi police officers on patrol in eastern Baghdad's Aubaydi district.
Also, a roadside bomb exploded near a fuel tanker, killing two people and wounding four others on the Sarrafiya Bridge in northern Baghdad.
In addition, a car bomb killed four Shiite pilgrims and injured 14 others in Baghdad's Yarmouk district.
In Baghdad's southern Dora district, a car bomb killed 12 pilgrims and wounded 38 others.
A car bomb in western Baghdad's Qadssiya neighborhood killed one pilgrim and injured three others.
Gunmen attacked a minibus in the Mahdiya neighborhood of southern Baghdad, killing eight pilgrims.